Use our thorough list of deburring machinery manufacturers and suppliers in California to examine and sort top deburring machinery manufacturers with previews of ads and detailed descriptions of each product. Any deburring machinery manufacturers can provide deburring machinery products to meet your company's specific qualifications. An easy connection to reach deburring machinery manufacturers through our fast request for quote form is provided as well. This source is right for you whether it's for deburring media, parts tumblers, or any other deburring machinery needs.
San Dimas, CA
|
951-377-2124
For over 10 years, Deburring Equipment Manufacturing (DEM) has been manufacturing vibratory tumblers, deburring machinery and polishing equipment. We offer demonstrations to show you just how much time, money and effort you can save with our top-of-the-line deburring machines.
$$$
Brea, CA
|
866-204-7068
De-burring parts using abrasive blasting cabinets is a very common solution to an old problem, it can be batch loads using tumble barrel blasting machines, manual siphon or direct pressure models and even micro models using direct pressure or siphon delivery. Flash de-burring rubber using plastics is also very common with our Hailstorm model. Media Blast has a full range of models for each and every type of abrasive delivery system allowing us to remove almost any burr.
$$$
Santa Ana, CA
|
(714)258-0342
All of our products are put through extensive, rigorous testing under the meticulously watchful eyes of our quality control team to ensure that we are providing only the highest quality products available. We will work with you from concept to completion in order to ensure a product to fit your exact requirements. Visit our website today to learn more!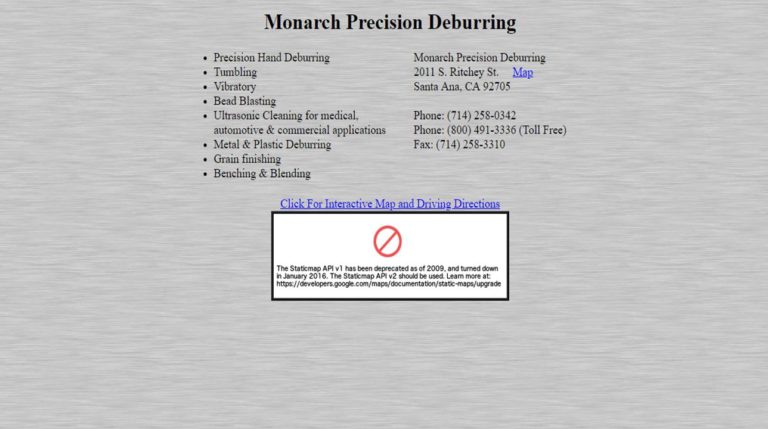 $$$
Companies Serving Near California